There are benefits to using your hands to apply makeup. Using the warmth of your fingers to help blend product into skin is an acceptable (not to mention effective) method. There are many professional Mua's who prefer this method. *Mary Greenwell would be a perfect example of someone who does this*
The difference between someone like Mary and the majority is that professionals wash their hands, before and after every application. There is never an exception to that rule.
Pro makeup artists wash their hands like its their job... because it is. Dipping into a new pot with crusty mitts? Not acceptable on any level. Never hesitate to check out your artists brushes. Don't be afraid to ask questions but at the same time do not touch them. They're not yours and touching them is unsanitary. The space in which the artist works should be visabliy clean. On occassion brushes could be stained from prior use so try not to jump to conclusions. The bottom line is, if you think your makeup artist isnt practicing proper infection control practices you shouldn't have hired them for the job in the first place.
With that in mind, I strongly suggest that if you wear makeup, are interested in preventing breakouts and like an even application that you invest in quality brushes. There are brands that can provide you with near to professional results at drug store price.
For example:
Real Techniques are where its at when it comes to inexpensive brushes. With these brushes come hundreds of YouTube tutorials staring brand ambassadors Sam and Nic Chapman of Pixiwoo. Name a celebrity style or look your interested in and they've got a video to help (even the clumsiest) re-create it. There is no age bracket that these brushes appeal to. My 13 year old niece and professional makeup artists bothlove them. Each brush can be used for a multitude of purposes.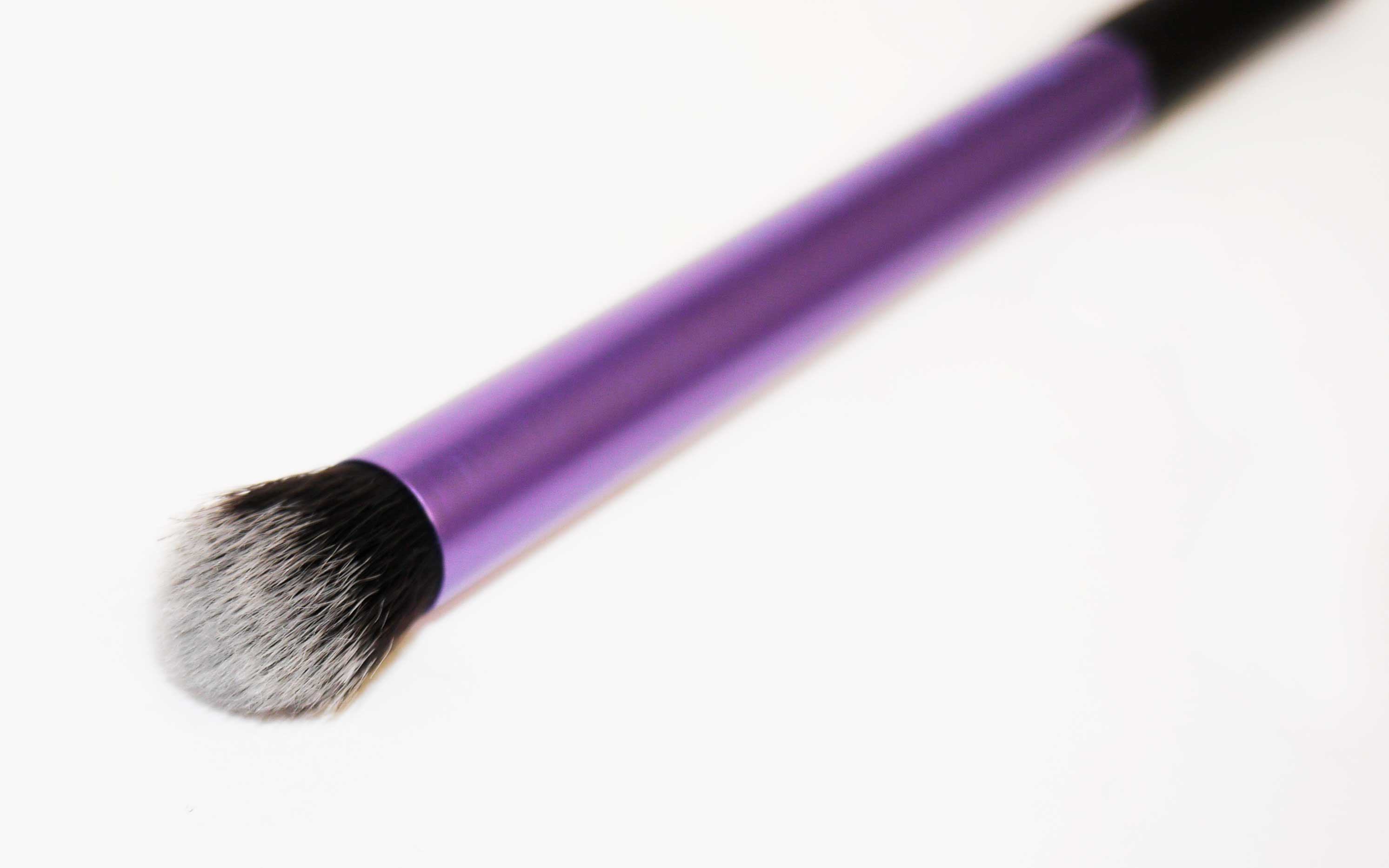 I use the Deluxe Crease Brush(from the Starter Kit) predominatly to conceal darkness in the socket under the eye. It's bristles are densely packed so if you're applying a product like Benefit's Erase Paste do not use a heavy hand. It helps to blend and make use of the smallest amount of product. It's also one of Real Techniques most popular brushes.
* I know men and women who rely on it to help them look refreshed.
In the end it's an inexpensive brush set that helps you save money on a short and long term basis.
I use the Retractable Kabuki Brush to apply my foundation because its shaped in a way that allows me to reach the contours of my face but malleable enough not to drag or pull on sensitive areas (under the eyes). It also retracts to help prevent bacteria and its bristles from being bent.
Which makes it a great brush for travel. If your someone who finds themselves doing their makeup while in transit... this ones for you!
The Retractable Lip Brush helps you reach the narrowest of places with the utmost precision. * I love this brush even more when applying a bright lipstick on someone other than myself.
The Sculpting Brush is great for contour (of course) but I love it for applying and blending cream blush.
Pro Tip: I apply Stila's Convertible Cream Colour Blushto the cheeks.
I make sure to pick up the blush only with the centre bristles of the brush. I use the outer bristles of the brush to blend and mix the foundation that I've already applied into the edges of the blush colour. *Use a light hand.
The bristles on this brush are densely packed and Stila's Cream Blush is extremly pigmented. 
MAC is what I consider the gateway drug to all things beautiful. My personal favourites are:
I use this brush for blending eyeshadow, to evenly apply a wash of colour over the lid and on rare occasions to blend concealer.
*Although I try to avoid cream based products when using a natural bristle brush
Pro Tip: The bristles on the outer edge of this brush should not be saturated in product they are there to help blend. That is why the brush is dome shaped*
A short-handled angled brush for creating sharp, precise lines. I don't use this as a lip brush (though I'm sure you could). I prefer a small, hard and dense brush when drawing a line or creating a flick because I feel as though I have more control. This is a personal preference really.
A soft and dense brush to line with powder, blend lines or pack eye shadow for more intense pigment. I picked this over the MAC 219 Pencil Brush for the control I feel a flat edge gives me.
I prefer bristles that are white (as is the MAC 217) because this allows me to see how much product has been picked up and where it sits on my brush.