For reasons unbeknownst to me I've beanFreezing my ass off for the past couple of months. So you might notice that a lot of my fave's in this post are made out of merino wool, cashmere, angora etc.. this is why. I've beanShopping more often than usual because I've beanWorking more than ever. My wardrobe needed to be updated due to the environments I work in. My choice of clothes reflect a sort of classic, arty person who likes to feel comfortable (without looking lazy).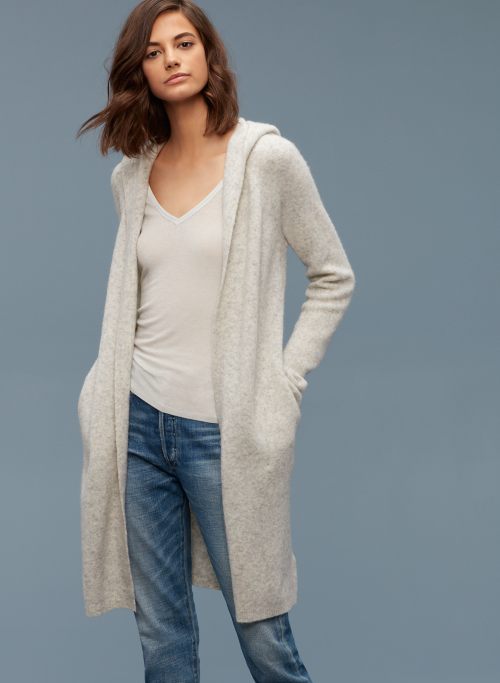 I layer it over a white tee with distressed denim. It feels so luxurious, lightweight and soft! It's a hug in sweater form really. I've worn it a lot without it loosing its shape and its not easy to snag. It's hood is also the perfect size for my head. I started wearing this in late October. I've worn it on dates, to work and to lounge in while editing videos. I do highly recommend hand washing or dry cleaning it. It wasn't cheap. 
If you've never tried Yoga Jeans you haven't lived. I own two pairs of this exact pant (in black) just so I'll still have them if the other needs to be washed. Nothing has ever fit me better. They make my butt perkier and my legs that much longer. They're extremely comfortable even when they've just been washed and they never lose their shape! A pair of black pants can be dressed up easily provided they fit you correctly. There is literally nothing they don't look good with. I would pair them with leather heels, a silk camisole, a fitted Smythejacket... and one piece of jewellery!
I came across these beauties while shopping this summer in Toronto. They are 18 karat gold plated with gold leaf inside. I personally love the studs in grey. Their creator Sara also makes bracelets, drop earrings and necklaces in a variety of different colours. Each more unique, delicate and gorgeous than the last! They are hand crafted and retail for an extremely affordable price. I fell in love instantly! 
I am such a fan of this brand. I have six pairs of boots and shoes and most recently this hat. The craftsmanship that goes into the making each item is beyond impressive. Effortless, smart style with attitude and British influence... I put on a Rag & Bone piece and walk taller.